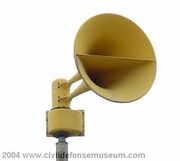 History
The ACA Hurricane 130 was designed by Alerting Communicators of America in November, 1968. The Hurricane started off with a square horn that ended with two poles where the horn attaches to the chopper enclosure, These were produced until 1973, when a larger, rounder horn was made that was a true exponential horn. The siren was popular with towns siren. The corporation continued production until 1980, when it was replaced with the P-50 siren. All Hurricanes are very rare, as most of them have been replaced by newer sirens. This siren is similar to a Thunderbolt because it uses a blower.
Ad blocker interference detected!
Wikia is a free-to-use site that makes money from advertising. We have a modified experience for viewers using ad blockers

Wikia is not accessible if you've made further modifications. Remove the custom ad blocker rule(s) and the page will load as expected.