Introduction
The 2001 series, made as the successor to the T-Bolt series, and a siren that is very common in the US.
The 2001 was first introduced as the 2001-DC Roundback which started and ended through 1988-1990, it used the same rotator motor as the T-Bolt, and also the back is round. Now comes the 2001-DC/DC Larger cone made from 1990-1995 these models used the same rotators as the T-Bolt but with a different motor, the only diffrence is that the back is a little more squared. Now we are getting into the more common ones, now I introduce the 2001-SRN made from 1998-2003 now this one is a bit different, it has a small federal signal logo and has a larger intake cone and the same rotator as the T-Bolt, now we have the 2001-SRNB made through 2003-2006, this one didn't have the same T-Bolt rotator it used a beltlless gear driven motor, and besides have a smaller head it is nearly identical to the SRN. Now to a siren still produced today the 2001-130 produced through 2006-???, this 2001 was the first one of producing 130 DBs at 100 feet, only difference is the motor is alot larger causing the back to be higher and more rectangular. in 2014 the 2001-Equinox was made, this siren is identical to the 2001-130 but it uses 8-port chopper instead of a 12-port chopper making the pitch a little lower, similar to the pitch of the Federal Signal 508 or ASC T-128. And that's the end of the history of the 2001 series siren.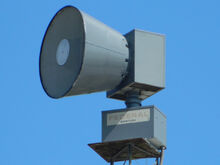 Ad blocker interference detected!
Wikia is a free-to-use site that makes money from advertising. We have a modified experience for viewers using ad blockers

Wikia is not accessible if you've made further modifications. Remove the custom ad blocker rule(s) and the page will load as expected.